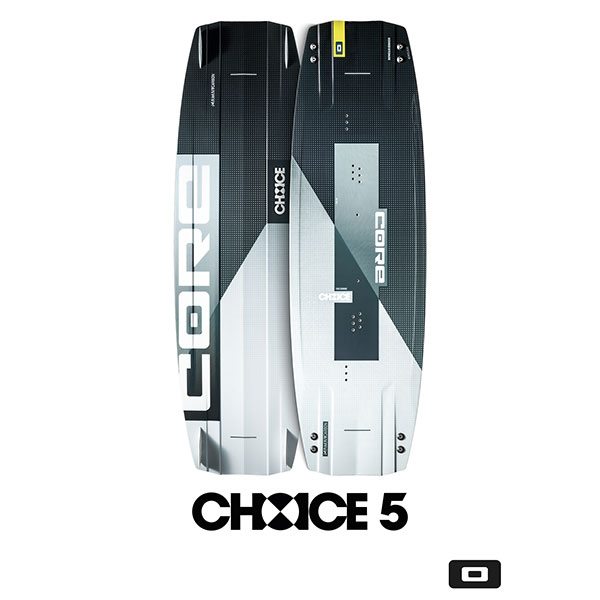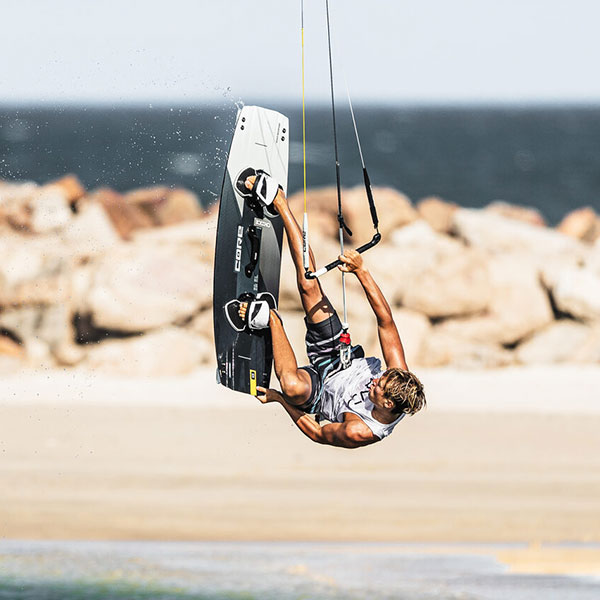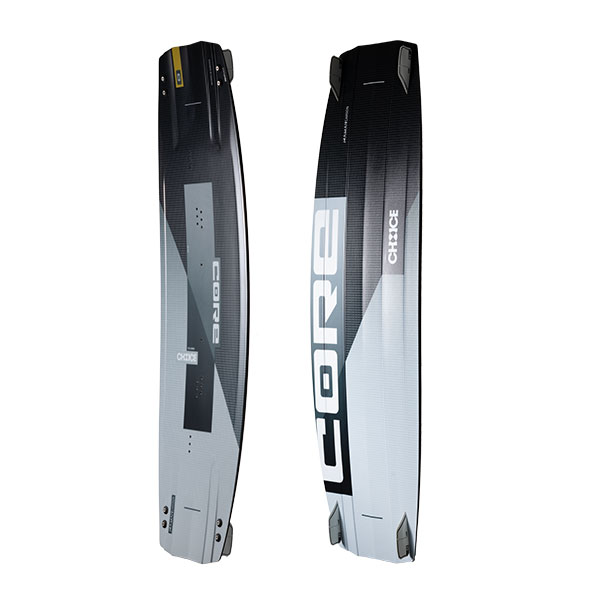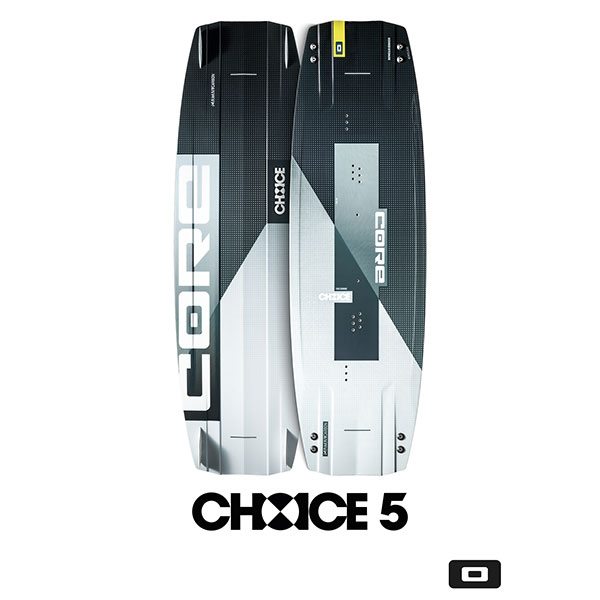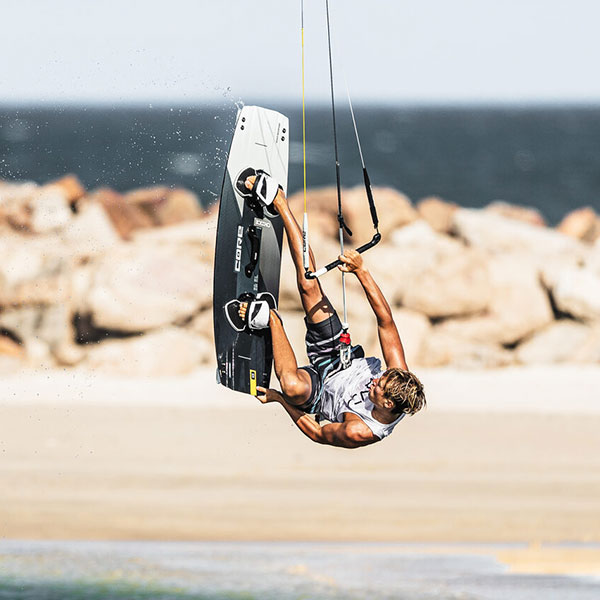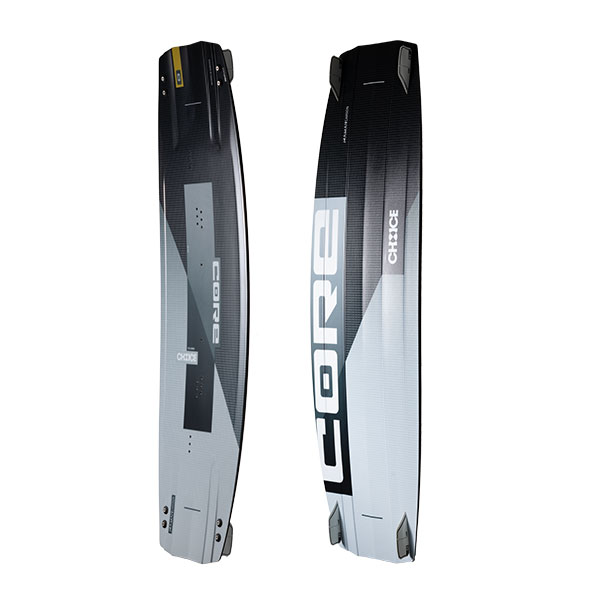 CORE CHOICE 5
€1,199.00
FREESTYLE+ | FREERIDE | WAKESTYLE
Offering an innovative, performance driven but playful twintip with an extremely wide range of use as well as outstanding performance potential in freestyle, wakestyle and big air, the CORE R&D team have once again taken a step closer to the perfect freestyle-freeride one-board solution.
Delivering an undeniably smooth ride combined with on-demand agility, the Choice 5 is easily accessible with sporty riding characteristics that even beginners and intermediates are guaranteed to make great learning progress on; quickly progressing to grabbed rotations and explosive jumps.
The Choice 5's excellent grip comes via state-of-the-art multi-channels, while the exciting agility and pop is made possible thanks to the relationship between the new tip shape and integrated quattro channels. Softer landings are due to the strongly contoured underwater hull, effectively breaking the surface tension of the water before pressure is felt in your knees. This easier feel helps you correct messy landings and manage choppy conditions more comfortably.
THE CHOICE 5 IN DETAIL
Thanks to pre-selected Paulownia slats, the Choice 5 is up to 250g lighter than its predecessor. Instead of the previous ABS rails, composite rods made of ABS and a laminate of up to 80-layers are used. This unibody technology, which originates from ski racing, creates a direct connection between the Cartan carbon laminates in the deck and hull in the form of a torsion box.
Give your sessions that extra sporty kick with the new Choice 5!
Description
Sizes:
133×40 | 135×41 | 137×41,5 | 139×42 | 141×42,5 | 144×43,5
Features:
CARTAN® CARBON: exclusive 30-degree carbon fiber weave for unique flex and ride performance
NEW! UNIBODY EDGE: unique connection of the upper and lower carbon laminates
NEW! PAULOWNIA LIGHT: even lighter marine grade CNC milled wood core
MULTI CHANNELS: grip and control in all situations
KATANA CHANNELS: stiffer tips for more response and immediate power
BEVELED DECK: minimized reverse flex and better planing
TUCKED UNDER RAILS: more grip for more efficient upwind riding
V-SHAPED KEEL: early planing, pillow soft landings
PRO ROCKER: deep bow for boots, high comfort for straps
Delivery:
Choice 5 twintip, standard grab handle, G10 Cutback Fins (42mm), and V4A fin screws.
Related Products
You've just added this product to the cart:

CORE FUSION 5

CORE FUSION 5

The Performance Freerider

PERFORMANCE FREERIDE + | FREESTYLE | BIG AIR

A mission-ready twintip for all your adventures is just a click away. New from the water up, the Fusion 5 features an upgraded hull, wood core, and never-been-done-before rail construction. The new shape and improved torsional stability will have you woohoo-ing like never before.

What's new on the 5er? We added an internal thermoset resin rail which massively improves the connection between the top and bottom Cartan carbon laminates for a proper unibody build. We reduced our Paulownia wood core's weight by switching to lighter laminated Paulownia, saving approximately 250g. We added a grab rail for the freestylers. And we improved the channels and outline for the freeriders.

Jump on the Fusion 5 and have incredible good sessions.

€

1,049.00