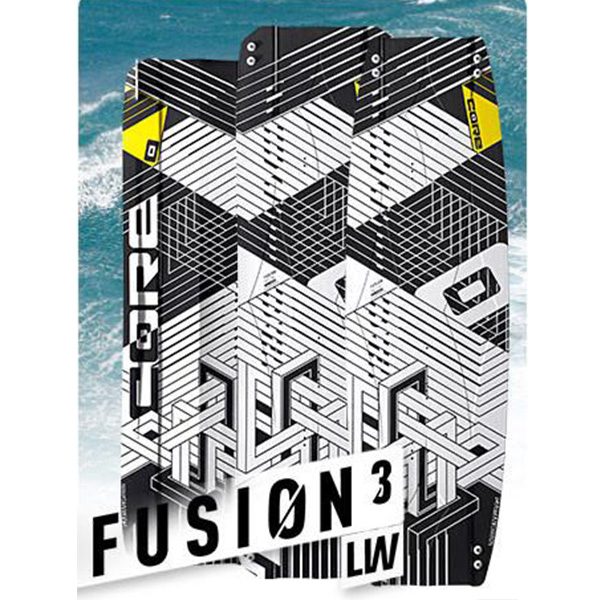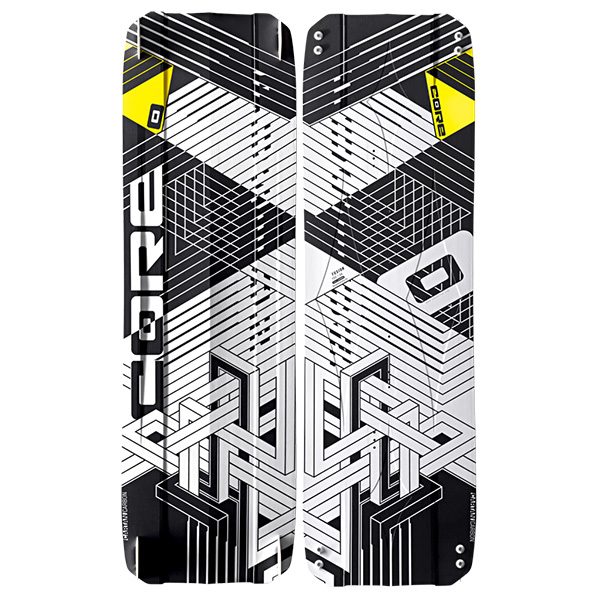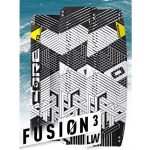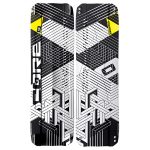 CORE FUSION 3 LW
€899.00
Allround LW Performance.
FREERIDE | FREESTYLE
CORE Fusion 3 LW (147 x 44 cm) Next-level awesomeness in the slightest wind.
Unbelievably agile and light on its feet. We like to think of the 147 as a hybrid with class leading lightwind handling and the freestyle capability of its smaller brothers. It's perfect for beginners who need a confidence boost and heavier riders who enjoy unhooking in light winds. Its new Multi-Channels, Vario Rails and Deep-V keel will give you the control and response you'd expect from a much smaller board. The Fusion LW Medium. Lightweight greatness.
CORE Fusion 3 LW (152 x 46 cm) Next-level awesomeness in the lightest of winds.
The ultimate early planer and lightwind cruiser. Our biggest Fusion 3 sports a concave board outline (like a parabolic snowboard) and a performance window that reaches down to 7 knots. Concave or sidecut rails improve upwind tacks by forcing the board to naturally ride deeper thereby lengthening rail contact with the water. Wider tips promote early planing and keep you going through the lulls. The sidecut Fusion 3 LW feels smaller so it has the potential to handle more wind than you would normally expect. You can always depend on the double concave V-Keel to keep you under control if the wind picks up. Because CORE delivers next-level awesomeness in the lightest of winds.
Description
Additional information
Description
izes:
LW 147×44 | LW 152×46
Features:
▪ CARTAN CARBON: Proprietary 30° biaxial carbon fiber weave optimizes torsion and longitudinal flex for a unique riding experience.
▪ VARIO RAILS: Variable rail thickness for better control.
▪ LW ROCKER: Optimized for light winds.
▪ 3D WOOD CORE: The heart of the Fusion 3 is marine grade, CNC milled Paulownia.
▪ DIAMOND 3D-SHAPE: Directs forces to where they are best used.
▪ V-SHAPED KEEL: Cuts through chop and delivers pillow-soft landings.
▪ MULTI-CHANNELS: Unbelievable grip and upwind tracking.
▪ DOUBLE CONCAVE: Amazing hold in corners.
▪ CONTINOUS DOUBLE CHANNEL: souveräne Führung und präzise Absprünge
▪ PROGRESSIVE MULTI CHANNEL CENTER: Grip und Kontrolle in allen Fahrsituationen
▪ DOUBLE CONCAVE: der Turbo für den Grip der Boardkante
▪ VARIO RAILS: variable Kantenstärke für präzise Flex-Steuerung und lebendiges Carving
▪ G10 CUTBACK FINS: New outlines. More fun.
▪ Optional: UNION PRO 2 PADS & STRAPS: Customizability, comfort, and control.
Additional information
| | |
| --- | --- |
| Color | Black, White |
| Size | 7Meter, SEVEN |
Related Products
You've just added this product to the cart:

CORE CHOICE 3

CORE CHOICE 3

FREESTYLE+ | FREERIDE | WAKESTYLE

One board.

Maximum freedom.

The infinite variations of mobes, spins, and loops you've perfected have earned you our respect. For you, we built the Choice 3 with Cartan powered pop, mega channeled grip, and custom flex.

Or maybe, you're new to freestyle. But you think you'll like boots. You'd rather ride a board that's just as much fun in straps as in boots. We made the Choice 3 for you too. Its new full-length deep Vee hull smoothes out nasty chop. And together with its optimized outline and mega channels, this comfortable allrounder rips upwind with reduced spray.

The Gen3 springs into action with its proven CNC milled Paulownia and Cartan carbon sandwich construction. Only now, the board is around 200g lighter. Our build method delivers outstanding flex properties; encouraging good freeride flex when gybing, controlling chop; and reducing bad flex (aka negative rocker) when landing hard or freestyling.

€

899.00

You've just added this product to the cart:

CORE FUSION 3

CORE FUSION 3

FREERIDE | FREESTYLE

Next-level awesomeness.

Meet CORE's ubiquitous twintip. A twintip for all seasons and every adventure. Freeride. Freestyle. Or waves. This Cartan carbon fiber board can do it all with pizazz. Europe's favorite performance freerider is the board of choice for newcomers to pros. And it's all you need.

Our latest Fusion leverages a decade's worth of board building expertise from Carved Customs -Europe's leading custom board manufacturer- and knowhow from their latest masterpiece, the Imperator 6. The 3rd generation is measurably lighter and features a new multi-channel hull, progressive rails, a deeper rocker line, and wider tips. Our engineers also invested considerable effort fine tuning the CNC milled Paulownia wood core, the backbone of the Fusion's unmistakable, smooth riding, energetic feel. And no Fusion 3 is complete without our new and fabulous Union Pro 2 or Comfort pads and straps. Add a pair now before you forget. We could go on, but we prefer that you find out for yourself the next-level awesomeness of the new Fusion 3.

€

899.00